美国的笔记本比中国便宜许多,但是还是要花一大笔米的。所以犹犹豫豫一直不敢出手。现在终于到了出手的机会了:周五就是感恩节过后的黑色星期五。很多东西打折都特别厉害,比如说下面的惠普听起来还是有些吸引力的。 
At Office Depot's: HP Pavilion G50-112NR laptop featuring a 15.4" display, 3GB Memory and 160GB Hard with the stunning price tag of $349.99.
那么,我们如何利用这个机会节约大米,同时又买到称心的东西呢?                      -------------- 小编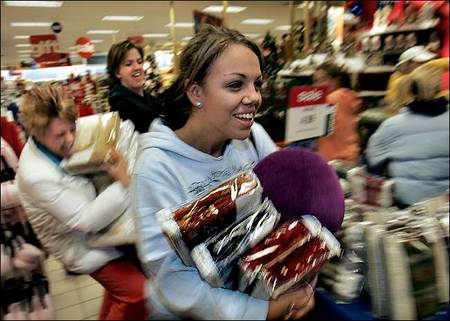 Reported by: Kelley Dunn
Email: kdunn@wptv.com
Reported by: WPTV staff
Nov. 26, 2008
WEST PALM BEACH, FL -- For many of us, Thanksgiving is the time for family, food and football. But it's also the time for shopping, sales and, if we're lucky, some significant savings.

We're heading toward Black Friday weekend; black because this is the time the stores are hoping to make enough sales to get out of the red.
For shoppers, it means some deep price cuts, and with a good shopping strategy you can take advantage of the bargains.
Know-It-All Sites: If Web sites were classmates, these would be the ones with their hands up first, every time. For both Black Friday and Cyber-Monday, next Monday's online equivalent (对等物:与另一事物基本相等的事物), there are a few specialist sites that have the skinny on the sale and coupon info out there. Blackfriday.info and cybermonday.com are just two examples of the sites that have done their homework and can point you to the sales. See the links on the left side of the page for more.
For example, on blackfriday.info, Walmarts' Black Friday sales information has bubbled (出现) to the surface.
There are big bargains on Blu-Ray disc players, televisions and more.
The site also has info on Black Friday deals for Best Buy, Costco, Toys-R-Us, K-mart, Macy's, Old Navy and dozens of other retailers.
Coupons are King: Just because it's the holidays doesn't mean you shouldn't still follow the good advice that your mother laid out for all of your shopping tasks: use your coupons (优惠券). Except now, instead of thumbing through (翻查) the newspaper, you can clip coupons straight off your printer. Or, if you're shopping online, just apply coupon codes to your order during checkout (结帐). Couponmountain.com, bfads.net and others have coupons to sweeten the already sweet Black Friday and Cyber-Monday deals.
The lines begin at the stores before the last piece of turkey has been devoured. They're all looking to gobble up bargains.
So what's the best advice for shoppers who will be filling the parking lots and searching for sales.
"Whatever they want, I recommend they research first what they want what they want to get," said Eddie Carrasquillo, who works at the Best Buy in Palm Beach Gardens.
If you want the biggest savings, regardless of where you shop, you're probably going to have to get in line early.
"We have selected minimum quantity, so of course people who are here at 11 p.m. the night before, they're looking for a specific item. They're definitely going to get them with a hot ticket item," said Carrasquillo.
Black Friday is sort of a dance between shoppers and retailers. Many stores are making the biggest price cuts of the year on certain items, with the hopes shoppers will buy those products and even more.
So what should you do if you want a good deal, and don't want to wait in line? One step you can take is go to the store's website, they often have coupons you can print out that will cut your cost.
There's another suggestion for avoiding the over-night lines. "If it's a certain item then you want look at something secondary that's going to be comparable to that and then you want to do the research on that," said Carrasquillo.