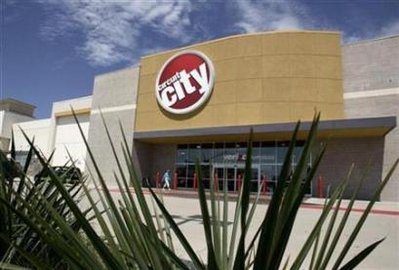 Mon Dec 22, 5:55 pm ET
RICHMOND, Va (Reuters) – Electronics retailer Circuit City Stores (CCTYQ.PK) got final approval for $1.1 billion in financing to provide liquidity (流动性) as it reorganizes and said its same-store sales had dropped even more steeply than predicted.
The debtor(债务人)-in-possession (债务人持有资产) financing, approved on Monday by U.S. Bankruptcy Court, enables the retailer to pay vendors (卖主) and other business partners for goods and services received. The company filed [提出(申请等)] for
Chapter 11 protection
last month.
U.S. Bankruptcy Judge Kevin Huennekens also approved a motion that would let Circuit City void employment and severance (断绝) contracts with 40 former workers, including Philip Schoonover, who stepped down as chairman and chief executive in September.
Schoonover was entitled to at least $1.8 million in pay and other benefits as part of his employment agreement, according to a regulatory filing.
During a hearing, Circuit City lawyer Gregg M. Galardi told the bankruptcy (破产) court that since the Chapter 11 filing, same-store sales had fallen 43 percent to 50 percent at stores that are not slated to close. Richmond-based Circuit City is closing 155 of its 722 U.S. stores.
Circuit City's bankruptcy budget had called for decreases of as much as 35 percent in same-store sales for various periods.
"With the continued deterioration (退化) of the macroeconomic climate, results from other retailers and our operating under Chapter 11 reorganization protection, the fact that our sales are somewhat weaker than our original forecast should not be considered a negative," Circuit City spokesman Bill Cimino said in a statement on Monday.
"We are improving our gross margin rate (毛利比率) and that is helping to offset (抵销, 弥补) the sales number as well as helping us manage to our DIP (debtor-in-possession) budget," the statement said.
Cimino added that "our biggest sales opportunities for the holidays still lay ahead of us."
Top electronics retailer Best Buy Co (BBY.N), which is offering voluntary severance packages to its 4,000 headquarters workers to cut costs, has said same-store sales could fall as much as 15 percent through February 2009, when its fiscal year (财政年度) ends.
Circuit City said last week that it would seek to reject store leases for 154 of those stores it is liquidating. The company canceled an auction of those leases last week after it did not receive enough bids. A hearing on real-estate matters is scheduled for next month.
Circuit City shares closed down 2 cents, or 8.1 percent lower, at 17 cents.
(Reporting by Louis Llovio; Writing by Karen Jacobs; Editing by Tim Dobbyn)