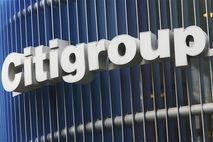 NEW YORK – Citigroup and Morgan Stanley may announce as early as Monday a deal to combine their brokerages, a move analysts say could trigger a fresh wave of consolidation(合并) in the troubled and thinning banking industry.

The potential deal between Citi and Morgan Stanley underscores(突出表明) the problems still facing the industry after a year in which several well-known financial firms toppled(倒闭) under the weight of rising losses tied to bad mortgages.

"This really shows the continued vulnerability(弱点) of the banking system," said Keith Springer, president of Capital Financial Advisory Services.

Morgan Stanley is likely to pay Citigroup between $2 billion and $3 billion for a 51 percent stake in the brokerage Smith Barney, a person close to the negotiations said Saturday.

Morgan Stanley would then have the option to buy the rest of Smith Barney over the next three to five years, the person said. The person spoke on condition of anonymity(匿名) because he was not authorized to speak about the ongoing talks.

A spokesman for Citigroup declined to comment on Sunday. Calls to Morgan Stanley were not immediately returned.

During the past several months of financial turmoil(金融风暴), many banks have had to overhaul(全面检查) their business models. Morgan Stanley and Goldman Sachs Group Inc. became bank holding companies shortly after rival Lehman Brothers Holdings Inc. filed for bankruptcy protection and Merrill Lynch & Co. was sold to Bank of America Corp. in an emergency sale initially valued at $50 billion. Investors had grown concerned that stand-alone investment banks would no longer be viable amid continued weakness in the credit markets.

A deal to combine the brokerages of Citigroup and Morgan Stanley would not only give Citi much-needed cash, it would also give Morgan Stanley more manpower(人力), analysts said.

"If Morgan and Citi get together, they would be able to put together a retail brokerage unit that is larger than Merrill's thundering herd, which could position them well in the marketplace," said Chris Probyn, chief economist at State Street Global Advisors. "This may be a way of staying competitive."

Citigroup has been hit particularly hard by the housing and credit crises. Though the bank has received $45 billion in support from the government's $700 billion financial rescue fund, its financial footing remains shaky. The New York bank has reported four straight quarters of losses totaling $20.2 billion through September 2008 and is expected to post yet another loss when it releases fourth-quarter results on Jan. 22.

"It looks to me like they are rethinking the business model that Sandy Weill had, which was a one-stop shop model," said Probyn, referring to Citigroup's former chairman and chief executive. "Now they are thinking about maybe going back to a more streamlined division."