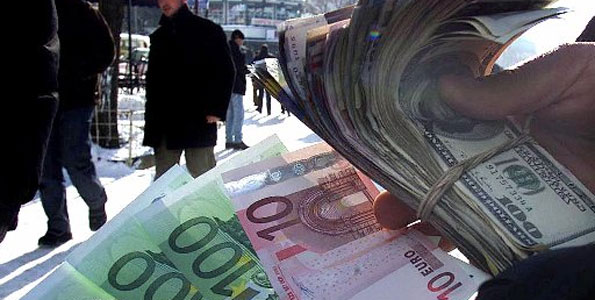 The euro fell yesterday, as investors including hedge funds(对冲基金) cut bullish bets(牛市下注额) on mounting(上升的;增长的) worries over Greece's finances, with many traders expecting the single currency to test key support levels(关键支撑位) on charts.
Speculative(投机性的) selling of the euro intensified as rumours swirled about Greece, with a drop in US stock index futures(股票指数期货) and oil also adding to pressure on high-yielding currencies(高收益货币) like the Australian dollar.
Traders cited market talk that Greece may call a snap election(呼吁提前举行大选) , as well as a rumour that Greek Prime Minister George Papandreou may resign, as factors that dragged the euro lower.
Greek newspapers reported the government is considering organising a referendum(全民投票;全民公决) on additional austerity measures(紧缩措施) after it failed to reach consensus with the opposition on new austerity measures. Greek officials declined to comment on the reports.
The euro seemed poised(保持) for a test of chart support following its drop, with both the bottom of the cloud on the daily Ichimoku chart(Ichimoku云图,一目均衡表) , a Japanese technical analysis tool popular among traders, and the euro's 100-day moving average(移动平均线) nestled(位于) near $1.3985.