Last month, Wu Yongning went out to do what he loved best - scale a skyscraper without safety equipment and film himself dangling off its roof by his fingertips.
What happened next almost seems inevitable - the Chinese climber fell, plunging 62 storeys to his death.
His many thousands of followers grew concerned when he stopped posting videos of his stunts on sites like Huoshan and Kuaishou, but his death was only confirmed in recent days, first by his girlfriend, then by authorities.
A shocking clip of what appeared to be his final moments - his fatal attempt to scale a building in Changsha city - began circulating online this week.
His death has prompted uneasy soul-searching over the "cash for clips" internet video industry. Questions are now being asked about whether these platforms, and their viewers, are in some way responsible for his death.
A recent Beijing News investigation found that Mr Wu had posted more than 500 short videos and livestreams on Huoshan, garnering a million fans and earning at least 550,000 yuan (£62,000; $83,000). Huoshan had prominently promoted his videos as recently as June.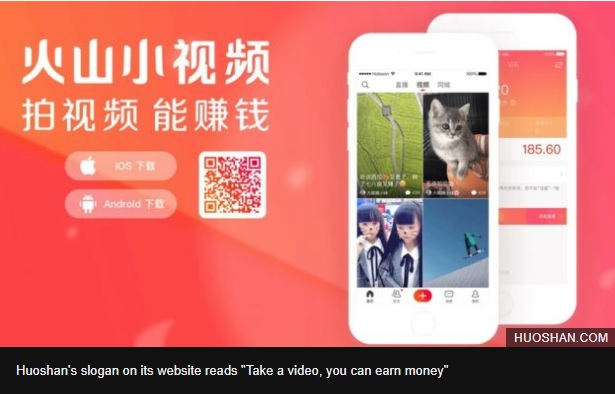 The reports prompted stern commentaries in national media.
"These livestreamers make 'close to death' reality clips, while the platforms profit as the middlemen... [We] cannot let these platforms become ruthless, cruel battlefield-like places," read one op-ed piece by news outlet The Paper.
State broadcaster CCTV said in a commentary that such sites "should not, in their quest for profit, selectively ignore the fact videos can bring about harmful social consequences".
Huoshan has since strenuously denied it encouraged Mr Wu's stunts, saying in a statement that while it "always respected extreme sports athletes' spirit of exploration and their works", it was also "always cautious, we do not encourage nor have we ever signed agreements" with them.
It is suing Sina News, one of China's biggest news outlets, after it reported claims from Mr Wu's relatives that it had financially backed the deadly climb.
Kuaishou also denied it collaborated with Mr Wu. A recent BBC check found Mr Wu's clips had been scrubbed from the two platforms.
'Crowdfunding his death'
But while no-one ever forced him to scale a building, some have asked whether Mr Wu's viewers also carry some responsibility for his death.
The debate over viewers' complicity has intensified as more people around the world practise "rooftopping" and share their clips on social media - the craze swept Russia earlier this year and has already claimed several lives.
But the question is particularly pointed in China, because livestreamers and viral video-makers can earn money from fans directly. Many Chinese video platforms allow followers to send virtual gifts, which can then be converted to cash.
The Paper's op-ed accused viewers of clips like Mr Wu's of "purchasing a life", while one commenter on discussion site Zhihu said: "Every single person who 'liked' (Mr Wu) basically took part in crowdfunding his death."
"Watching him and praising him was akin to... buying a knife for someone who wanted to stab himself, or encouraging someone who wants to jump off a building," said a user on microblogging network Weibo.
"Don't click 'like', don't click 'follow'. This is the least we can do to try to save someone's life."