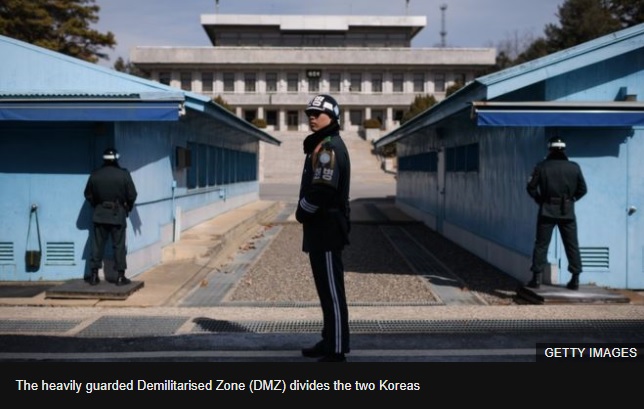 Kim Jong-un will on Friday become the first North Korean leader to cross into South Korean territory since the end of the Korean War in 1953.
In newly announced details, South Korea said President Moon Jae-in would personally meet Mr Kim at the border at 09:30 local time (00:30 GMT).
The historic talks will focus on the North's recent indications it could be willing to give up its nuclear weapons.
The landmark summit is a breakthrough after years of mounting tension.
But Seoul has warned reaching an agreement aimed at ridding Pyongyang of its nuclear weapons will be "difficult", because North Korea's nuclear and missile technology has advanced so much since the sides last held talks.
"The difficult part is at what level the two leaders will be able to reach an agreement regarding willingness to denuclearise," South Korean presidential spokesperson Im Jong-seok said.
The meeting - the third of its kind following summits in 2000 and 2007 - is the result of months of improving relations between the two Koreas, and paves the way to a possible meeting between Mr Kim and US President Donald Trump.
As well as addressing Pyongyang's nuclear ambitions, the leaders are expected to discuss a path to peace on the peninsula to formally end the 1950-53 Korean War, as well as a series of economic and social issues.