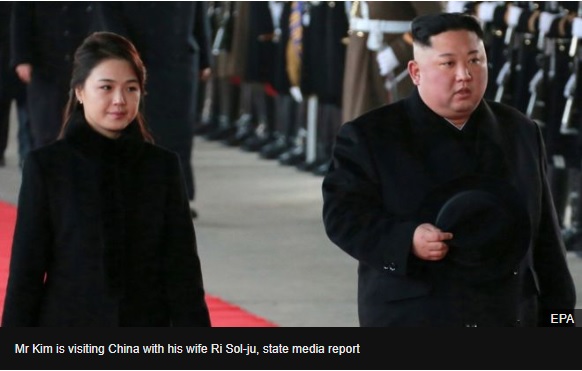 North Korean leader Kim Jong-un is visiting China at the invitation of President Xi Jinping, North Korean and Chinese state media have confirmed.
Mr Kim will be in China until 10 January with his wife Ri Sol-ju, said the reports.
The visit comes amid reports that negotiations are under way for a second summit between Mr Kim and US President Donald Trump.
The two met last June, the first such meeting for a sitting US president.
Speculation had grown on Monday that Mr Kim was possibly making his way to China on board his armoured train.
The visit, during which he is being accompanied by several leading North Korean officials, is his fourth to China in less than a year.
Tuesday is also reportedly Mr Kim's 35th birthday, though his date of birth has never been confirmed by Pyongyang.