The first Scrooge
How the world's best-known miser was brought to life
"Scrooge is utterly memorable. He is loathed and loved.
His name is dropped into conversation so regularly - yet many people have never read the story in which he first appears."
So says Frankie Kubicki, from London's Charles Dickens Museum.
The museum is now hosting the exhibition:
A Ghost of an Idea - Unwrapping A Christmas Carol
"It's a real joy to dig into our vast collections and share the first appearances of one of the greatest literary characters."

"This is a really special first edition of A Christmas Carol. Six-thousand copies were made in December 1843. They sold quickly, in only five days or so."
"Charles Dickens had a very clear idea of how he wanted these first editions to look. It would have been hugely expensive, but he commissioned four colour illustrations. Coupled with the fact he wanted to keep the book at a reasonable price of five shillings, it meant his final profits were actually very meagre."
"Each of these images would have been hand-coloured. The illustrations were created by Dickens's friend - the Punch cartoonist John Leech."
"And this is one of Leech's original pencil sketches, before the final versions made it into the print. Hunched by his fire, the miser is confronted by the ghost of Marley - his former business partner."

"Is this the very first image of Ebenezer Scrooge?
Yes, absolutely."
"When John Leech put pencil to paper to make these drawings of Scrooge, he was inspired directly by Dickens's description of the character. You could say that these are the purest and freshest depictions of Scrooge. They are certainly highly influential. To have three of these pencil sketches is incredibly rare."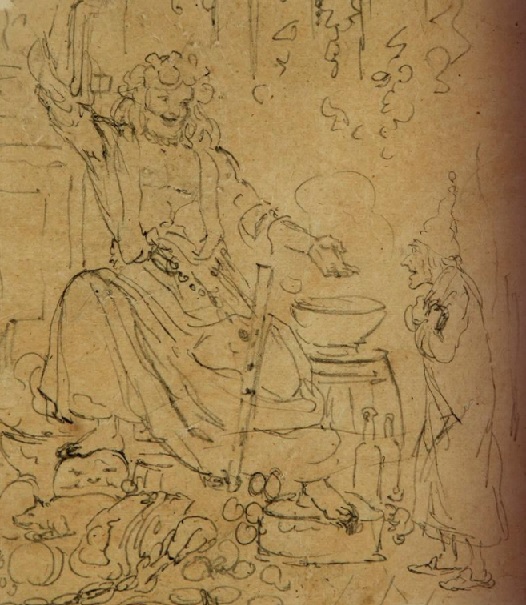 "Here, Scrooge meets the Ghost of Christmas Present. The ghost is a fabulous, almost pagan-like, figure."
"Ebenezer Scrooge is then shown his own gravestone by the Ghost of Christmas Yet-to-Come."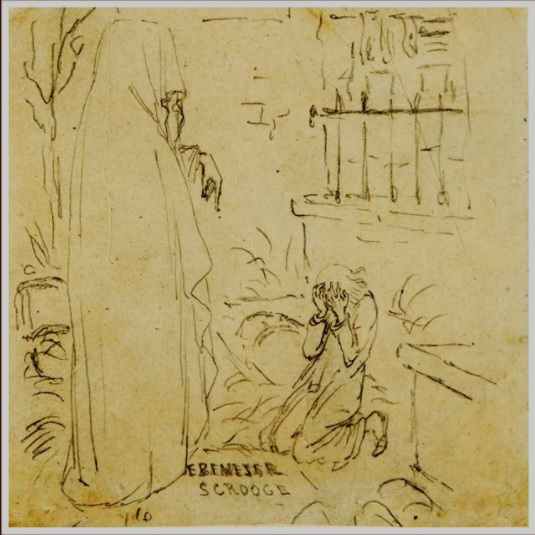 "This is a pivotal moment in the story. It's when Scrooge pledges that he will change."
"Our exhibition looks at why Dickens wrote A Christmas Carol. His own experiences are believed to have influenced the story." "Dickens came from a middle-class family, but his background was insecure. His father, John, had terrible debts and was imprisoned in Marshalsea debtors' prison in south London for a time. Charles was put to work at the age of 12. The whole experience really hung over the author for the rest of his life."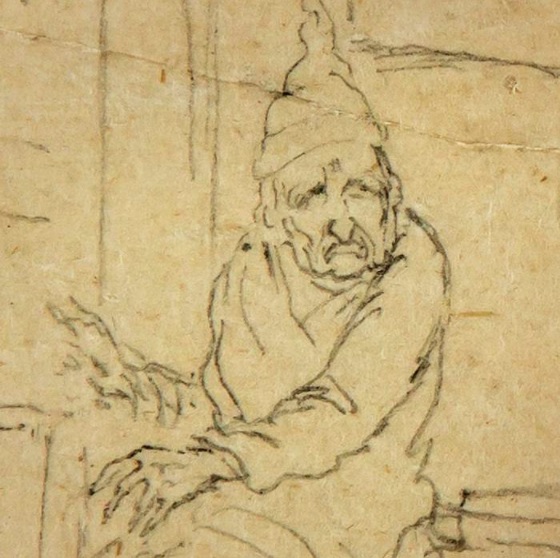 "A Christmas Carol takes Scrooge on a transformational journey - one which seems to continue to resonate with modern audiences." "Charles Dickens approved John Leech's Scrooge creations for the book's first edition in 1843. So they're the best examples we have of what the miser first looked like in the author's mind."