Many of the nation's favourite treats are getting smaller, but BBC research has found that some prices are falling too.
Chocoholics and biscuit-lovers have been outraged in recent years by news of so-called "shrinkflation".
That is when food manufacturers reduce the weight of their products without shrinking the price.
So with the traditional January detox over, and many Britons reaching for a sweet snack, we have looked at whether the customer always loses out.
We analysed 19 products and averaged prices over the last four years from high street chains Asda, Ocado/Waitrose, Sainsburys and Tesco. The figures reveal that 18 of the 19 products have been slimmed down.
Manufacturers often blame the rising cost of ingredients.
Mondelez International, which makes Toblerone, said it had carried the costs for "as long as possible" before deciding to make their triangles further apart.
Nestle said it had reduced weights sometimes to reduce calories or bring manufacturing in different countries into line.
Others point to exchange rates, in other words how their buying power has been hit by falls in the value of the pound.
But whether it is the ingredients, exchange rates, or saving us from obesity and bad teeth, all manufacturers insist that they give customers value for money.
Which brings us on to price, where the results get much more surprising.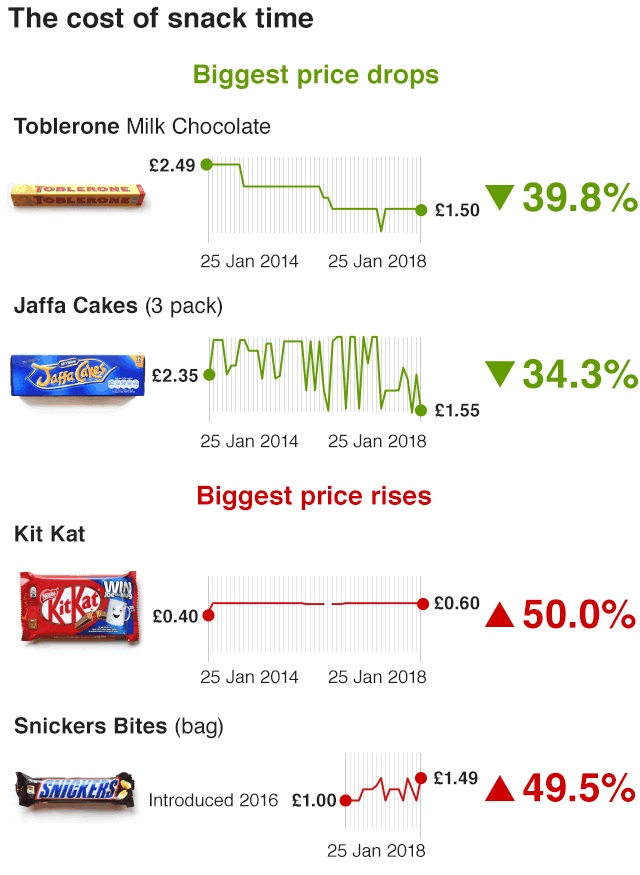 Our selection was almost evenly split between products which had gone up in price and those which had become cheaper.
In total, nine of our 19 products had actually gone down in price, two by more than a fifth.
While price cuts for products are not always in proportion to size reductions - it is not the case that customers are being short-changed all the time.
Manufacturers know that keeping their products affordable is important.
So while the "shrink" is overwhelming, the "flation" (raising prices by stealth) is happening... not quite so much.