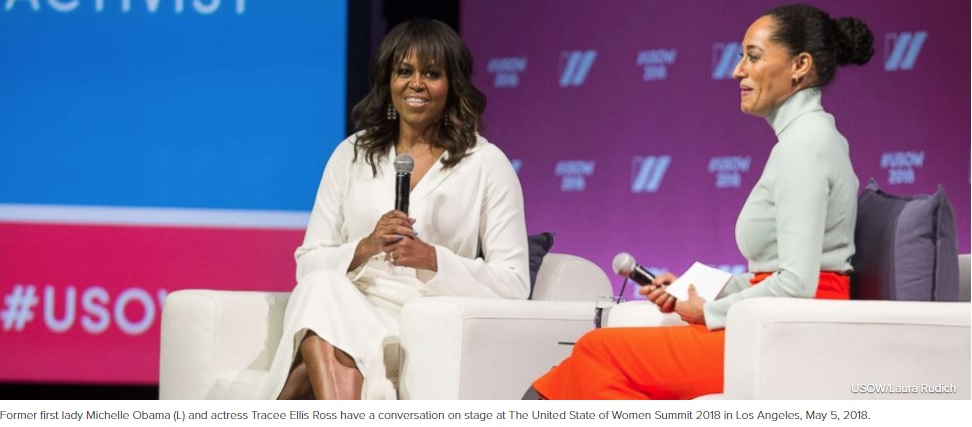 When former first lady Michelle Obama took the stage at this year's United State of Women summit in Los Angeles, the crowd erupted in cheers so loud that Tracee Ellis Ross joked from the stage: "Are you gonna be able to hear us if you keep screaming?"
This was the start of a conversation between Obama and Ross, who are friends in real life. It was the start of the most highly anticipated speaking event at the USOW, following a day filled with high profile speakers including Jane Fonda, Valerie Jarrett, Tina Tchen, Aly Raisman and more.
The women spoke about everything from education to childhood memories to what the future holds for the next generation of women.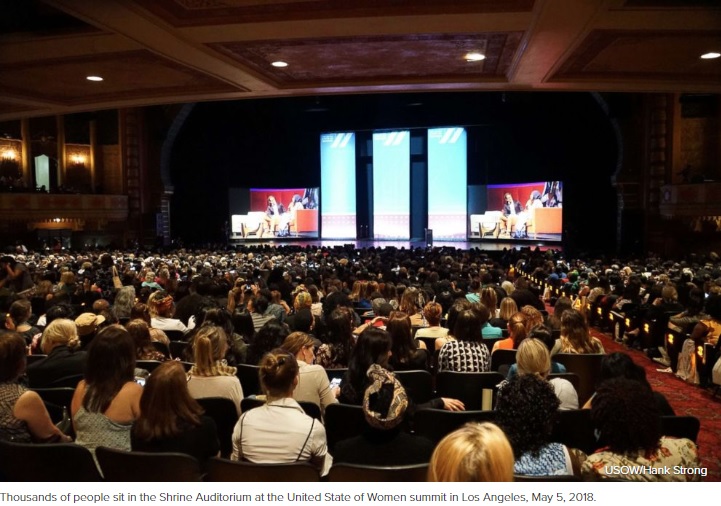 When Ross asked Obama, "Do you think there's a way that we can help everyone dream in a more limitless way that is not gender based?"
Obama answered that she's "concerned about us as women."
"When the most qualified person running was a woman and look what we did instead. I mean, that says something about where we are," Obama said to a full crowd at the Shrine Auditorium. "If we as women are still suspicious of one another, if we still have this crazy, crazy bar for each other that we don't have for men, if we're still doing that today, if we're not comfortable with the notion that a women could be our president, compared to what?... That's on us."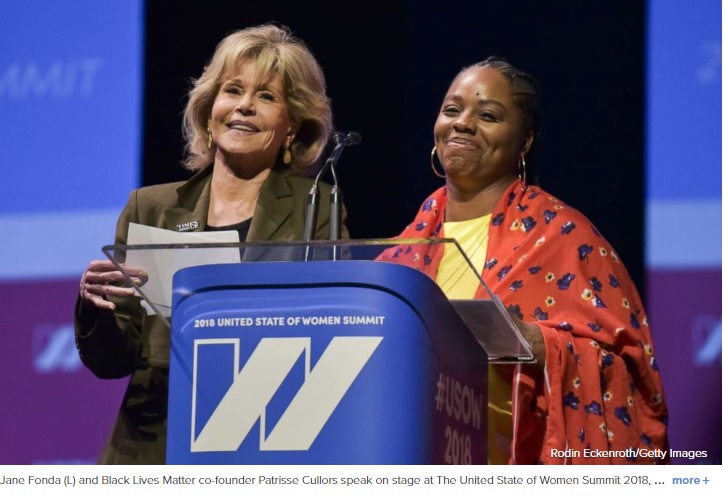 They spoke about how culture "eggs" women on to get married, have the dream wedding and have kids. When Ross said she missed that stage, Obama responded, "Good for you."
"Tracee Ellis Ross must not be happy because she's not married with kids."
"Look where I'm sitting!?" Ross replied to a cheering crowd.
"I think if we want our daughters to dream bigger than we did then we have more work to do," Obama said. "So many of us have gotten ourselves to the table but were still too grateful to be at the table to shake it up."