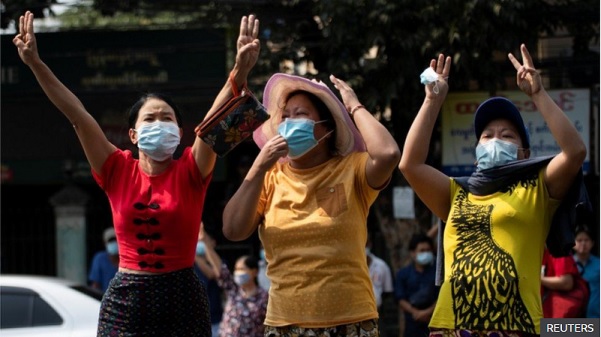 Thousands of people have taken to the streets of Myanmar's main city, Yangon, for a second day of mass protests over the military coup of nearly a week ago.
Men and women, many of them young, held up pictures of detained leader Aung San Suu Kyi and wore red, the colour of her National League for Democracy party.
"Respect our vote," read one banner in reference to the NLD landslide win in November's election.
On Saturday, the military shut down the country's internet connections.
Yet people have still been finding ways to get images and videos of the protests out.
Many demonstrators gave the three-fingered symbol-of-protest salute and held red balloons, while cars and buses slowed to sound their horns in support.
"We will move forward and keep demanding until we get democracy," one protester, Myo Win, 37, told the AFP news agency.
Police trucks and officers in riot gear were stationed on the streets near Yangon University.
So far the military authorities are not stopping this show of mass defiance, but everyone assumes they will try before long, the BBC's South East Asia correspondent Jonathan Head reports.
Smaller demonstrations were also reported on Sunday morning in Mawlamine and Mandalay.
Elected leader Aung San Suu Kyi, President Win Myint and other senior NLD leaders have been under house arrest since the military took control of government on 1 February and declared a year-long state of emergency.