It's almost turkey day, which means eating, drinking, napping -- more eating -- feeling thankfull and, of course, always having room for dessert.
We asked Pinterest for the most popular pie recipes and I decided to make three of the classic desserts that no holiday table would be complete without.
The contenders: Southern Pecan Pie, Dutch Apple and Pumpkin Pie.
Southern Pecan Pie
Recipe
Ingredients
1 9-inch frozen pie crust or make your own
1 1/2 cups chopped pecans or pecan halves
3 eggs beaten
1/2 cup white granulated sugar
3 tbsp salted butter melted
1 cup dark corn syrup
1/4 tsp ground cinnamon
1 tsp vanilla extract

Instructions
Preheat oven to 350 degrees.

Take frozen pie crust out of the freezer and place it on a baking sheet while preparing the filling.

Or, if you are using the homemade pie crust, prepare the crust, prick it with a few holes using a fork, and then stick it in the refrigerator while preparing the filling.

In a medium bowl, whisk together beaten eggs, sugar, melted butter, corn syrup, ground cinnamon and vanilla extract until thoroughly combined.

Place the pecans into the bottom of your pie crust.

Then pour the filling on top of the pecans.

Bake for about 45-50 minutes. Around the 20-minute mark, you may want to add some aluminum foil around the edges of your pie crust to keep it from getting too browned.

Oven times do vary, but basically, the middle of the pie should be set when done (not overly jiggly) and the center will puff up a bit.
Dutch Apple Pie
Recipe
Ingredients
Crust: Store bought or use homemade recipe.
Filling:
8 cups Granny Smith apples. cored (peeled, cored, and sliced)
1 tablespoon Lemon juice
3/4 cup White sugar
1/4 cup Brown sugar
1/4 cup Flour
1 teaspoon Cinnamon
1/4 teaspoon Nutmeg
Topping:
1 cup Flour
1/2 cup Brown sugar
1/2 cup White sugar
1 teaspoon Cinnamon
1/2 cup Butter (cold)

Homemade Pumpkin Pie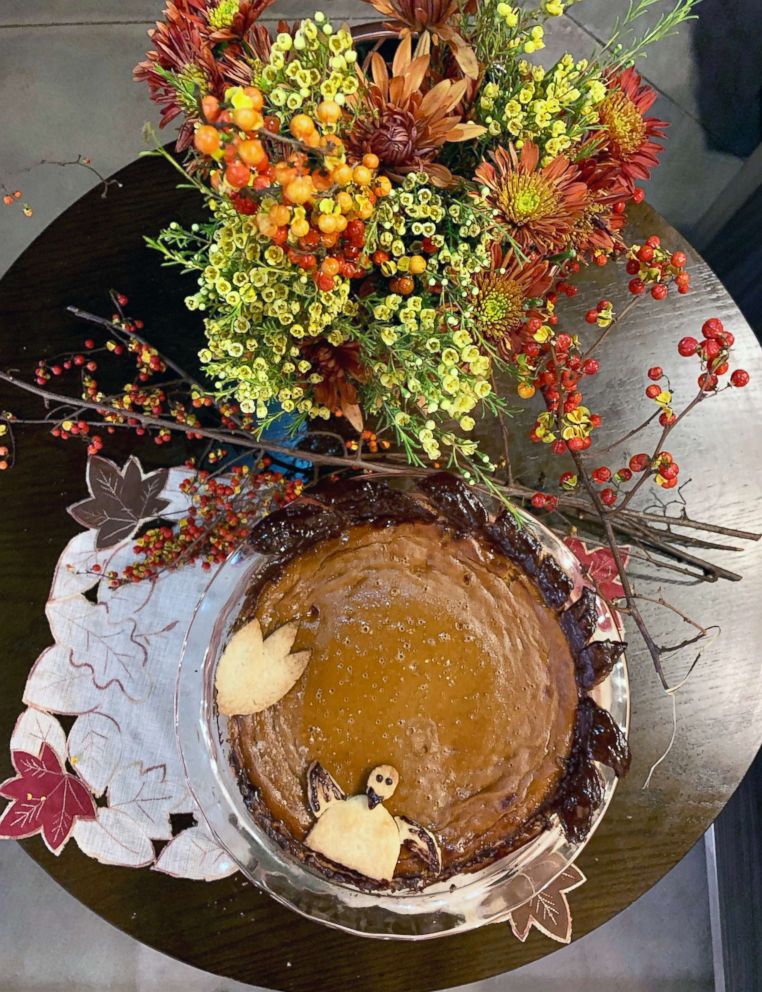 Ingredients
Pie Crust:
1 store-bought or homemade pie crust
Pumpkin Pie Filling:
1 cup light brown sugar
1 tablespoon all-purpose flour
1/2 teaspoon salt
1 teaspoon ground cinnamon
1 teaspoon ground ginger
1/2 teaspoon ground nutmeg
1/8 teaspoon ground cloves
3 large eggs lightly beaten
1 15-ounce can pumpkin puree
1 and 1/4 cups evaporated milk

There's also a recipe for a homemade pie crust, but in the words of the Barefoot Contessa Ina Garten, store bought is fine.