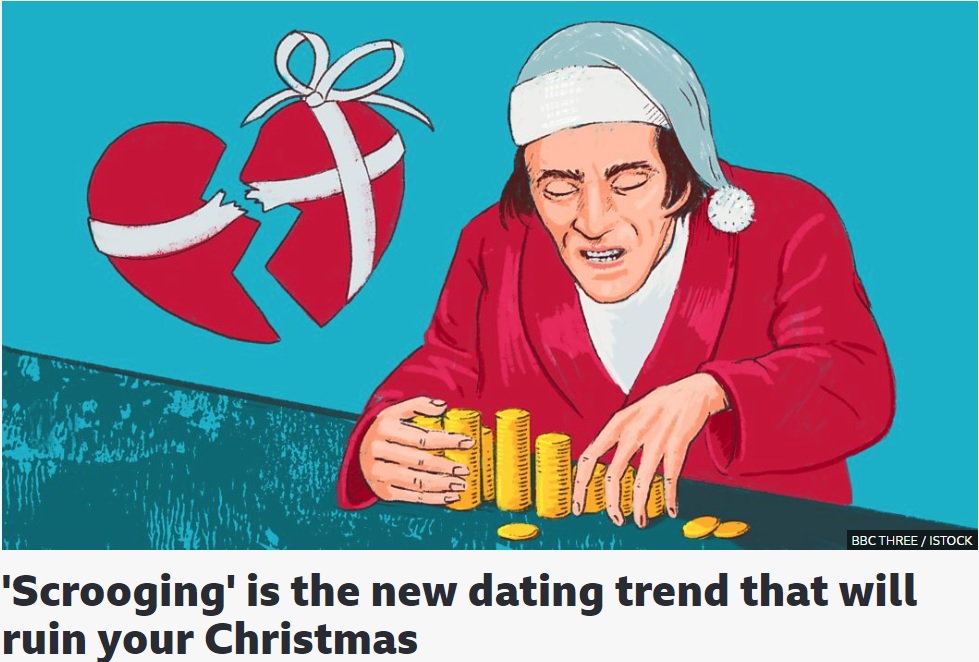 Verb: Scrooge (as in, 'to Scrooge'):
The act of breaking up with your partner to avoid spending money on their Christmas presents.
So here we are, the dystopian, Black Mirror version of a Christmas love story, where instead of being showered with gifts and TLC you're deserted because your partner is too tight to buy you a present. Sob.
Following on from preating and orbiting, Scrooging is a (newly coined) way to be awful to your significant other. One dating site claims that almost one in 10 Brits have admitted to breaking up with someone to avoid getting them a Christmas present(aka Scrooging). Although, a dating website might have some vested interest in us all being single...
According to statisticians David McCandless and Lee Byron, who analysed 10,000 Facebook statuses, more people break up on 11 December than on any other day of the year. Although, disclaimer: The social media masterminds were keen to point out to ABC that this is not a 'proper' study, but more of a "curious exploration" of a pattern that cropped up when they were analysing Facebook posts (we've all been there). Their data is also 10 years old - do people even update their Facebook relationship statuses anymore?
Either way, it would seem that people are being dumped in the run-up to Christmas. It's no secret that the festive season is not cheap. Before you've even got round to the cost of the big day itself (presents, food, fancy crackers), there are the Christmas parties, drinks with friends, and the office Secret Santa (we could go on and on).
In fact, the Bank of England estimates that a typical household spends over £500 extra in December. So it's possible people might genuinely not be able to afford gift-giving and may be too embarrassed to admit it.
The results from the dating site also revealed that 18-34 year-olds were the main culprits, with men more likely to dump their partner than women (11% vs 7%).